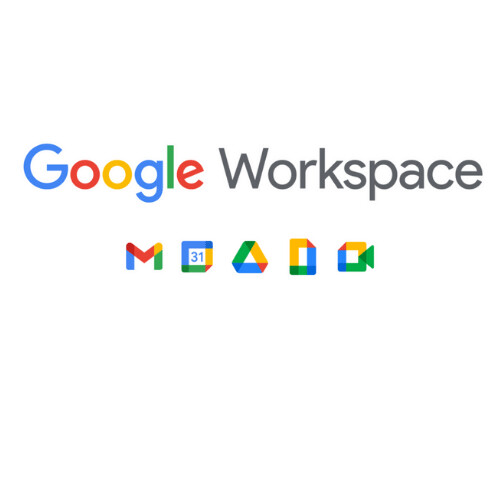 Google Workspace for Education Plus (Annual)
00032
Students take advantage of the benefits.
Product Details
Brand:
Google Workspace Enterprise (Annual)
Delivery: Delivered by e-mail from manufacturer (delivery could be within hours or up to 6 days)
Contact us for volume licensing (the more you buy the lower price could be)
[tab name='Description']
Product Description:
Similar to G Suite, all Google Workspace plans provide a custom email for your business and include collaboration tools like Gmail, Calendar, Meet, Chat, Drive, Docs, Sheets, Slides, Forms, Sites, and more.
Custom email with your domain
Cloud-based, no installation needed
Advanced security and admin features
Everything you need to get anything done, now in one place.
Google Workspace uses Google's products and services to provide institutions with a more efficient workplace solution. Google Workspace's set of cloud-based collaboration and communications applications allows institutions to co-create, store, and share documents, spreadsheets, slideshows, and websites. It also works seamlessly with file types including Microsoft Office docs.
Office tools
The Google Workspace office tools enable you to create documents, spreadsheets, and presentations as well as create custom surveys and questionnaires, and team websites.
Communication apps
Efficiently communicate through a variety of apps, from audio and video calls to chat, email, social networking, and calendars.
Collaboration tools
Keep work in one place, and access and share files whenever you need them from any device. Edit files together in real time.
Secure data storage
Google Drive securely stores data across the globe in different data servers, keeping the data safe. Data are also encrypted in transit and at rest.
Flexibility and mobility
Access data and communicate from anywhere, on any device with a web connection.
Increased productivity
With 99.9% uptime and more real-time collaboration, you'll see fewer interruptions, less errors, and more productivity.
Easy to use
The Google Workspace products are intuitive and easy to use, and they can be used seamlessly with other file types, such as those from Microsoft Office.
Cost savings
The combination of fewer help-desk calls, faster resolution, fewer outages, less payout for external security, and eliminating expensive hardware and software upgrades and maintenance together lead to big cost savings.
[tab name='Videos']

Introducing Google Workspace
Everything you need to get anything done. Google Workspace
Beyond the Office: Google Vision for Productivity
What Google Workspace customers are saying
[tab name='Technical Specs']
MINIMUM SYSTEM REQUIREMENTS

Windows Microsoft Windows

Mac

Android

iOS



[tab name='Misc Info']
Disclaimer: Information may not be accurate or may change at any time. Access Scanning is just a re-seller, manufacturer owns rights and trademarks of software. Description was provided by manufacturer.
Save this product for later